messing around with pixlr once again :)
been a little obsessed again with blazblue after the recent airing of the anime adaptation
blazblue: alter memory
. they covered the story from the first two games
calamity trigger
and
continuum shift
so I got to see mu-12 in the anime *__*
slight warning: her outfit doesn't hide very much at all, so might be a wee inappropriate if your boss has a tendency to peek over your shoulder all the time (though.. that might be inappropriate too?! lol) and the "god-killer" title is just what she is known in-game and it makes sense in context - no offense meant to anyone!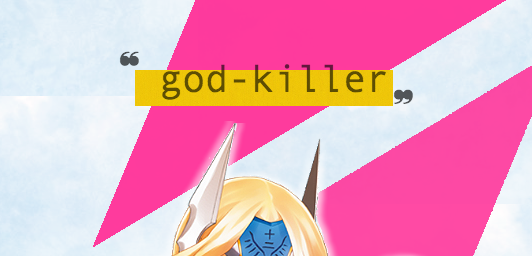 click the preview for full image
1,560 x 1,040
original image
read somewhere that 1560 x 1040 was a good resolution to work with ever since the ios7 started unreasonably resizing and zooming in to
every
.
single
. picture you try to set as your wallpaper. it's been super annoying so I've resorted to making my own wallpapers at the same time as well ugh. this one turned out well, but now I have to wrestle with the auto-dimming mechanism because alot of my wallpapers turn out really light, but not light enough for the words to just auto-detect and turn black UGH
as always,
no reposting, no re-editing of any kind
. if you want this
just
for personal use, that is allowed. but if you want this anywhere on your own sites such as tumblr, please leave a comment here and I will get back to you asap on what I would like to do with your request! :D
thank you for stopping by ♥
resources: featuring
this cloud texture
.