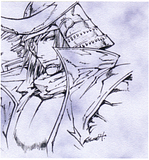 ➪
i tried to shade this to the best of my ability -head meets table with a resounding thud-
no fancy textured background this time. i may make a banner of this one day. when my eyes don't hurt so much ]:
scan from
dokuganryu
and is an official image from Basara X.

♔
if for any reason, somebody not on my f-list stumbles upon this and wishes to use it in any way, please drop a comment here first (: thankyou♥.